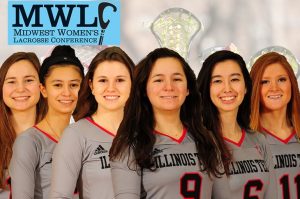 The Midwest Women's Lacrosse Conference announced its 2017 Season Awards on May 4. A total of six Scarlet Hawk student-athletes were honored by the conference, including four All-Conference Awards and two Players of the Year.
Madison Meredith (Second Year/Allen, Texas) earned the league's Midfielder of the Year Award and a spot on the All-MWLC First Team. Meredith built off of an outstanding freshman season to become one of the league's most dynamic players, leading the MWLC with 40 assists, 15 more than the next closest player. The Texan also ranked third in the conference in points (82), sixth in caused turnovers (36), 10th in goals (42), and seventh in draw controls (56). She was an Offensive Player of the Week Award winner this season as well. This is Meredith's second First Team selection in as many seasons.
Alyssa DeLuca (Second Year/Wrentham, Massachusetts) won Co-Attacker of the Year and a First Team All-MWLC selection. Also garnering first-team honors for a second straight season, DeLuca led the MWLC in goals scored with 77, ranking her sixth in all of NCAA Division III and also 15 more than the league's next-closest player. She is also tied for the league-lead in points (84), ranked 15th in draw controls (40), was named Team MVP at last Friday's Illinois Tech Athletics Awards Banquet, and was a two-time Offensive Player of the Week Selection this season. In addition, the Massachusetts native set a school record with 10 goals scored in a single game on April 1 in the team's 22-0 win over Cornell College.
Isabella Rubin (Second Year/Concord, New Hampshire) also earned a spot on the All-MWLC First Team as a midfielder, the first All-Conference selection of her career. The New Hampshire native ranked fourth in the MWLC with 55 goals, 11th in assists with 14, 14th in ground balls with 46, and 15th in caused turnovers with 26. Rubin was a recipient of an All-MWLC Sportsmanship Award last season and was one of Illinois Tech's team captains in 2017.
Jennifer Young (Second Year/Leawood, Kansas) earns an All-MWLC First Team defense selection after garnering Second Team honors a season ago. The converted goalkeeper proved to be a versatile defensive asset, causing 22 turnovers, picking up 46 ground balls (14th in the conference), and scoring nine goals. She also scored the game-winning tally in overtime in a 9-8 win over Aurora University on April 22.
Mallory Tognetti (First Year/Howell, Michigan) earned All-MWLC Honorable Mention honors at defense. The team's Excellence in Sport Award winner from last Friday's Illinois Tech Athletics Awards Banquet proved to be a valuable member of the team's defense in her freshman season, picking up 21 ground balls and causing 11 turnovers. She also scored once and added two assists.
Cassandra Reineke (Third Year/Waukegan, Illinois) was named to the league's All-Sportsmanship team. The captain of the team's defense, Reineke helped engineer one of the region's top defenses with 32 ground balls and 16 caused turnovers to go along with two goals scored. Reineke was a First Team All-MWLC selection in 2016.
The Illinois Tech Women's Lacrosse team enjoyed its best season in school history in 2017, finishing with a 15-2 overall record and a share of the MWLC regular-season title with a 10-1 conference record.
Click here to view a full listing of MWLC awards.