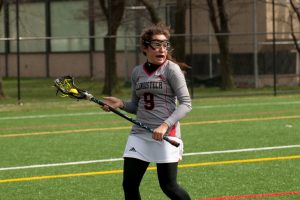 The Illinois Tech Women's Lacrosse team played a non-conference match on March 7 at Alma College. Behind a potent offense, the Scarlet Hawks remained unbeaten on the season, downing the Scots 14-4.
Records
Illinois Tech 3-0 
Alma 2-2
How it Happened
After no goals were scored over the first 10 minutes of the contest, MWLC Offensive Player of the Week Alyssa DeLuca put Illinois Tech on the board off of an Isabella Rubin pass with 19:10 left to go in the first. Alma answered less than a minute later to tie the score.
The same occurred just over seven minutes later. Isabel Fitzpatrick-Meyers tallied to take a 2-1 lead, but Alma found the back of the net just over a minute later to tie things again.
Just 13 seconds after Alma's second goal, the Scarlet Hawks began an impressive run. Over the final 10 minutes of the first half, Illinois Tech outscored the Scots 7-0, with DeLuca, Rubin, and Madison Meredith all scoring twice in this span. Illinois Tech led 9-2 at intermission.
Over the first 15 minutes of the second half, the Scarlet Hawks continued to build the lead, outscoring Alma 4-1. Meredith scored twice more over this period, as her and DeLuca both assisted each other on goals.
Illinois Tech outscored Alma 2-1 for the rest of the match, as Fitzpatrick-Meyers and Sarah Maciorowski iced the victory with goals in the final five minutes.
Scarlet Hawk Standouts
Meredith was impressive, scoring four times with one assist, four ground balls, and four caused turnovers. She also had two draw controls.
DeLuca increased her season goal total to 16 with four more tallies to go along with two assists.
Rubin scored twice while also netting an assist, four ground balls, and four caused turnovers.
Fitzpatrick-Meyers scored twice, caused two turnovers, and recorded a team-high six ground balls.
Maciorowski and Cassandra Reineke each scored once. Reineke tallied four ground balls and a team-high four draw controls. Maciorowski also had three ground balls.
Jessica Cochis earned the win (first of her career) and tallied two saves.
Stats to Know
Illinois Tech committed just 16 turnovers compared to Alma's 31.
Illinois Tech was an impressive 20-of-23 on clears. Alma was 13-of-25.
The Scarlet Hawks outshot the Scots 37-6.
Up Next
Illinois Tech is off until Wednesday, March 15, when the team travels back to Michigan. The Scarlet Hawks will play at Hope College at 5 p.m. CT.