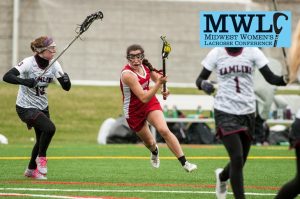 The Midwest Women's Lacrosse Conference has revealed its annual preseason coaches' poll. After finishing second place in the league with a 13-4 overall and 8-1 conference record a season ago, the Scarlet Hawks earned a second place finish this preseason.
Illinois Tech earned 109 total points and one of 12 first-place votes, marking the first time the Scarlet Hawks have ever received a first-place vote in the poll. The number trails Concordia-Wisconsin in the poll, as the defending MWLC champions earned 120 points and 10 first-place votes. The other first-place vote went to Aurora University, who received 100 total points and ranked third in the poll.
After jumping from eight teams to 10 prior to last season, the conference has now added two additional members. The additions of Hamline University and Monmouth College now bring the total number of schools to 12 for the upcoming season.
Illinois Tech Women's Lacrosse begins play on Thursday, March 2 at 4 p.m. at Kalamazoo College. The home schedule begins on Saturday, March 18 when Illinois Tech hosts MWLC foe Hamline at 2 p.m. Live audio, video, and statistics will be available for all home games. Live webcasts will be powered by Illinois Media School.