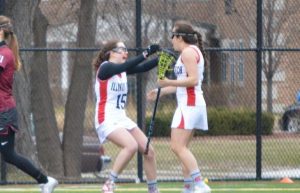 The Illinois Tech Women's Lacrosse team hosted the Cornell College Rams on April 1 at Stuart Field, moving to a perfect 6-0 in Midwest Women's Lacrosse Conference play and 10-1 overall. The Scarlet Hawks dominated, scoring a program-high 22 goals while recording a second straight shutout for the 22-0 win. Illinois Tech also set an individual record in the contest, as sophomore Alyssa DeLuca's 10 goals are a single-game high for Illinois Tech Lacrosse.
How it Happened
The Hawks quickly put the game out of reach, scoring eight goals within the first 15 minutes. Three of the tallies came from midfielder Madison Meredith.
Illinois Tech finished out the half scoring five more goals, with three coming by way of DeLuca. The score was 13-0 at halftime.
Cornell slowed the Scarlet Hawks in the early goings of half number two, but junior Sarah Maciorowski found the back of the net at the 23:54 minute mark. Just one minute later, DeLuca scored again to build a 15-0 Hawks lead.
Maciorowski (two), DeLuca (three), Isabella Rubin, and Jenifer Young combined for seven total goals in the remaining 20 minutes.
Scarlet Hawks Standouts
DeLuca was on fire all game scoring a total of 10 goals on 14 shots, picking up four ground balls, and adding six draw controls.
Meredith packed the stat sheet, scoring four goals on six shots while assisting on five others. She also had six draw controls, caused six turnovers, and picked up six ground balls.
Maciorowski added four goals on eight total shots, causing one turnover and grabbing three ground balls.
Rubin had an effective game, scoring two goals on five shots, causing one turnover, grabbing two ground balls, and recording three draw controls.
Stats to Know
Illinois Tech tallied 46 total shots, whereas Cornell only managed five.
Rams goalkeeper Hollie Force was busy, saving 11 shots. Illinois Tech goalkeeper tandem Abbie Reynolds and Jessica Cochis saved all four shots faced.
The Hawks had 11 more draw controls (17) than the Rams, who managed six.
Illinois Tech picked up 29 ground balls compared to only 12 for Cornell.
Up Next
The Scarlet Hawks will travel to Lisle, Illinois, to face Benedictine University on Wednesday, April 5 in another MWLC matchup. The game is set to begin at 7 p.m. Live stats will be available.