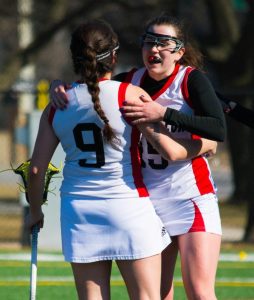 The Illinois Tech Women's Lacrosse team led early and often in a strong win (14-9) over the Concordia-Chicago Cougars at Stuart Field on March 21.
How it Happened
Isabella Rubin scored the game's first goal on a free position shot just 4:54 into the first. Illinois Tech scored again roughly three minutes later. Alyssa DeLuca recorded the tally after an assist from Madison Meredith.
Concordia rallied back to tie the game at 2-2. Within two minutes of each other, Sydney Fuller fed Anna Kellar for the first Cougars goal. Fuller scored the second goal at 19:54 after an assist by Sandra Acevedo. Kellar followed up with another goal two minutes later, assisted once again by Fuller and the Cougars led 3-2.
DeLuca scored for the second time in the game just 30 seconds later.The Hawks then regained the lead at 15:21 with a Jennifer Young goal with an assist from Shanie Scoles.
DeLuca continued her great game, recording a hat-trick with 13:31 remaining in the first half after an unassisted goal. Illinois Tech led 5-3.
The Cougars used similar firepower to draw within one. Fuller scored for the second time—unassisted—17:18 into the half.
The Scarlet Hawks rebuilt the lead to two after Meredith joined in on the scoring from a Mallory Tognetti assist. DeLuca scored her impressive fourth goal of the half just two minutes later and the score became 7-4. With 6:35 to go in the half, Meredith recorded her second goal to put the Scarlet Hawks up four.
Shanie supplied the assist for DeLuca to score her dominating fifth goal of the game with two minutes in the first half. Illinois Tech led 9-4 at halftime.
Illinois Tech opened up the scoring in the second half after seven minutes of play. Rubin scored after a Scoles assist.
The Kellar-from-Fuller combination worked again for the Cougars just 30 seconds after the Hawks' first goal of the second half. That resulted in a Kellar hat-trick. Illinois Tech still led 10-5.
Young got the Scarlet Hawks to 11 after an unassisted goal with 22:23 left in the game.
Exactly 50 seconds later, Jessica Jaimes scored after an assist from Kellar for Concordia-Chicago.
Illinois Tech led 12-6 after Scoles scored with 12:16 left in the second half.
Kellar added another assist to her already great game for the Cougars as Sydney LaTurner scored for Concordia-Chicago after nearly 20 minutes of play in the second half.
Illinois Tech notched two goals while up a player down stretch. One went to Scoles after an assist from Young. The other goal was scored by DeLuca to give her a whopping six for the match.
Concordia-Chicago added two very late goals in the final minute of play, as Margaret Doane and Kellar cut into the deficit. But the Scarlet Hawks prevailed and won the game after streaky scoring 14-9.
Scarlet Hawk Standouts
DeLuca scored her six goals on an extremely efficient seven shots on goal. She also collected four ground balls, had one draw control, and caused one turnover.
Scoles recorded two goals on eight shots on goal with three assists, six ground balls, and seven draw controls.
Meredith scored two goals on three shots with an assist. She had two ground balls, two draw controls, plus a caused turnover.
Young hit her two goals on two shots on goal. She added an assist, two ground balls, three draw controls, and a caused turnover.
Rubin added her two goals on four shots on goal. She picked up two ground balls and caused one turnover.
Stats to Know
Illinois Tech was 4-5 on free position shots.
Ground balls were in favor of Illinois Tech (27-22).
The Cougars committed 24 turnovers to Illinois Tech's 17.
The Hawks finished with 29 shots; the Cougars finished with 19.
Up Next
Illinois Tech will play at home on Saturday, March 24 at 1 p.m. against Augustana. Live audio, video, and stats will be available. The live audio will be powered by Illinois Media School.