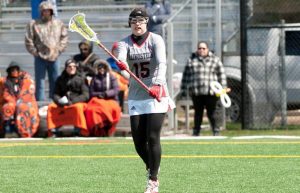 The Illinois Tech Women's Lacrosse team traveled to Kalamazoo, Michigan, on March 2 to take on Kalamazoo College for the first game of the season. The Scarlet Hawks were down 4-0 early, but managed to climb back, send the game into overtime, and defeat the Hornets 9-8.
Records
Illinois Tech 1-0
Kalamazoo 0-1
How It Happened
The Hawks started the game flat-footed and committed several turnovers. The Hornets managed to score four goals within the first 15 minutes of the first half.
But Illinois Tech was able to cut the lead in half by intermission as sophomore Alyssa DeLuca scored two goals to make it a manageable 4-2 deficit.
Both teams traded goals to begin the second half, but two consecutive goals by DeLuca tied the game at 5-5. The lead was short-lived, as the Hornets quickly capitalized and regained the lead 20 seconds later.
Illinois Tech continued to fight as another goal by DeLuca cut the deficit to one (8-7) with 7:30 left on the clock, but the outcome looked grim as the Hawks were still down with one minute left. A late foul by the Hornets gave the Hawks a free position attempt, and DeLuca was able to convert as the Hawks tied the game in thrilling fashion with two seconds left in the game.
The three minute overtime ended as soon as it began as Isabella Rubin scored 12 seconds in, giving the Hawks the 9-8 victory.
Scarlet Hawk Standouts
DeLuca had a fantastic start to the season scoring six goals on seven shots and causing three turnovers.
Rubin also had a strong start to the season, tallying two goals on five shots, one of which was the game winning goal, and winning two draw controls.
Sophomore Madison Meredith had a big influence on the game, scoring one goal on three total shots and tallying two assists.
Isabel Fitzpatrick-Meyers tallied a game-high three assists and had three shots.
Stats to Know
Illinois Tech outshot Kalamazoo by four, 20-16.
The Hawks picked up 16 more ground balls than the Hornets (26-10).
Illinois Tech had seven draw controls compared to 12 for the Hornets.
Up Next
The Scarlet Hawks head to Monmouth College on Saturday, March 4 for the first Midwest Women's Lacrosse Conference game of the season. The game is scheduled to start at noon.