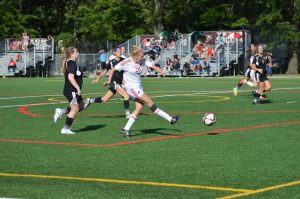 The Illinois Tech Women's Soccer team hosted the Concordia University Chicago Cougars on October 6. The Scarlet Hawks dropped the match 2-0.
How it Happened
Concordia struck early on, as Kahla Walker scored in the eighth minute to give the Cougars a 1-0 lead. The goal came on the first shot of the match for either team.
Both defenses and goalkeepers kept the offenses in check for the remainder of the first half. Illinois Tech's final chance of the half was turned away, as an Anida Phetchanpheng shot was saved by CUC keeper Madeline Kroll in the 40th minute.
One of Illinois Tech's best chances to score came in the 50th minute, as Katie Hoefgen took a pass after a corner kick and hit the side of the net.
The Cougars added insurance in the 57th minute with another Walker goal.
Illinois Tech took just two shots the rest of the way, as CUC controlled possession.
Scarlet Hawk Standouts
Phetchanpheng attempted three shots and was the only Scarlet Hawk with multiple shots on goal (two).
Hoefgen attempted three shots and one shot on net.
Madison Harris recorded two shot attempts.
Stats to Know
Concordia-Chicago outshot Illinois Tech 17-9 overall and 11-3 on goal.
The Cougars led in corner kicks 4-3.
The Cougars committed 12 fouls compared to Illinois Tech's eight.