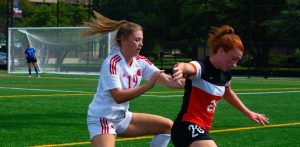 The Illinois Tech Women's Soccer team bested Edgewood, 3-0, at Breese Stevens Field on October 21, clinching a first-round bye of the Northern Athletics Collegiate Conference Tournament.
How It Happened

Illinois Tech scored all three goals in the first half.
Five minutes into the match Caeli Kennedy found the back of the net after Julia Taliana's shot was blocked for her third goal of the season.
Cosette Thompson recorded her third goal of the season in the 10th minute.
Julia Honda found Jamie Griggs on the left side. Griggs shot it from 30 yards out and banked it home for her 15th goal of the season.
Scarlet Hawk Standouts
 Catherine Klemp picked up yet another shutout in goal, as well as three saves in 90 minutes of action.
 Katie Hoefgen and Thompson each led the Scarlet Hawks with four shot attempts.
 Olivia Kochanek and Kennedy both had three shots on goal.
Up Next
Women's Soccer returns to action on Wednesday, October 24 hosting Dominican (Ill.) for its final regular season home match of the season.