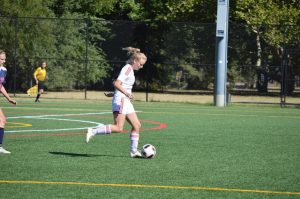 The Illinois Tech Women's Soccer team played host to Finlandia University in the first part of a women's and men's team doubleheader on October 21 at Stuart Field. Illinois Tech tallied early and often in an impressive 7-0 win over the Lions.
How it Happened
Illinois Tech was on fire early on, scoring three times in the match's first 11 minutes. Katie Hoefgen scored the team's first two goals, with assists from Julia Taliana and Erin James. Taliana tacked on an unassisted third goal in the 10th minute.
The combination of Brianne Dane and Kirsten Robinson proceeded to take over. Robinson found Dane for scores in the 21st and 24th minutes to go up 5-0.
After combining for a goal early in the first half, Taliana found Hoefgen in the 26th minute once again. The 6-0 Illinois Tech lead held for the rest of the first half.
Illinois Tech tallied once more in the second half on a Finlandia own-goal.
Scarlet Hawk Standouts
Taliana tallied a goal and two assists on a staggering 12 shots.
Hoefgen recorded a first-half hat trick on seven shots.
Dane scored twice on five shots.
Robinson tallied two assists and also attempted five shots.
James had an assist to go along with five shots.
Stats to Know
The Scarlet Hawks attempted 54 shots compared to two for the Lions. Illinois Tech also had 22 shots on net.
Finlandia recorded 15 saves courtesy of Haley Makela.
The Scarlet Hawks moved to 7-10-1 on the season while Finlandia fell to 1-11.
Up Next
With the home schedule complete, the Scarlet Hawks now have one match remaining in the 2017–18 season. Illinois Tech will close out the season on Saturday, October 28 at 1 p.m. at Alverno College in Milwaukee, Wisconsin.