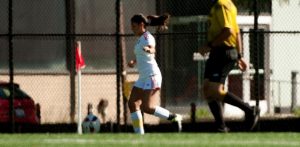 The Illinois Tech Women's Soccer team tied with Whitman College 1-1 at Stuart Field on September 2.
How It Happened
Katie Hoefgen scored her third goal of the season in the seventh minute of the match after her first shot attempt was blocked and she rebounded to knock it in.
Whitman College tied the match in the 76th minute.
Illinois Tech had a few more chances to score but were unable to capitalize.
Catherine Klemp also had a huge save for Illinois Tech in the 88th minute as Whitman's Chloe Young had a near goal.
Allie Seracuse recorded two saves for Whitman including a huge save in the 89th minute as Katie Hoefgen had a header attempt that almost trickled in.
Scarlet Hawk Standouts
 Catherine Klemp came in the match in the second half and recorded four saves.
 Hoefgen had six shots.
 Jamie Griggs had three shots, one on goal.
 Caitlin Kenoian did well in her first career start at Illinois Tech, not allowing a goal in the first half.
Up Next
Illinois Tech returns to action Saturday, September 8 against Lake Forest College at 5 p.m.