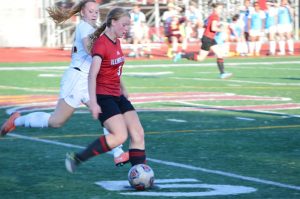 The Illinois Tech Women's Soccer team made the short drive to Concordia-Chicago on September 14 to oppose the CUC Cougars. The game slowed down after a fast start, with the teams playing to a 2-2 draw. On September 16 the team hosted the unbeaten Kohawks of Coe College for the 2017 Homecoming game. Coe jumped out to a first half lead as Illinois Tech was unable to recover, falling 3-0.
How it Happened – CUC 
Four minutes into the match, the Cougars jumped out to a 1-0 lead with a Sydney Fuller goal.
In what would become a theme in the first half, Illinois Tech responded to the CUC tally. A lead pass from Kirsten Robinson found Julia Taliana, who scored in the 11th minute to tie things 1-1.
Concordia took a 2-1 lead in the 21st minute, but just 50 seconds later, Taliana made a tricky cross to Erin James, who scored to tie the match once again.
While the Scarlet Hawks controlled possession much of the first half, it was Concordia's turn in the second, outshooting the Hawks 8-4. The defense held strong as the match went to overtime.
In the extra periods, the Scarlet Hawks outshot the Cougars 6-2. However, Concordia was able to turn away the opportunities to force a draw.
Scarlet Hawk Standouts
Talina had a goal and an assist on a team-high six shots (three on goal).
James took three shots (two on goal), scoring once.
Robinson tallied an assist and two shots (both on net).
Katie Hoefgen also attempted six shots and three shots on goal.
Stats to Know
The Scarlet Hawks outshot the Cougars 22-17.
Illinois Tech had seven corners compared to three for CUC.
The Cougars forced the tie in large part due to 11 saves.
How it Happened – Coe 
Sydney Schroeder scored in the 27th minute for Coe after the Scarlet Hawks were tight defensively to begin the match.
Coe added another tally quickly, as Shalyn Kinney scored on a Schroeder pass in the next minute.
Jordan Holmes scored for Coe in the 33rd minute to extend the lead to 3-0.
The Scarlet Hawks responded with more chances in the second half, as shots were even at 5-5. However, Illinois Tech was unable to find the back of the net while keeping the Kohawks scoreless.
Scarlet Hawk Standouts
Hoefgen led the team with three shots and two shots on goal.
James attempted a shot on goal.
Stats to Know
Coe outshot Illinois Tech 16-7 overall and 10-3 on net.
Coe goalkeeper MJ Winterer has yet to allow a goal this season.
Coe out cornered Illinois Tech 8-2.