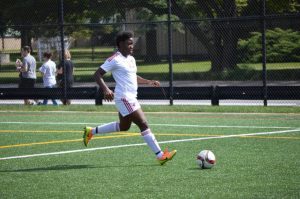 The Illinois Tech Women's Soccer team played its first game of a two-match trip to California on October 8. In a neutral site match, the Scarlet Hawks fell to UC Santa Cruz 4-1.
How it Happened
The Banana Slugs jumped out in front, scoring in the 10th and 16th minutes to take an early 2-0 lead.
In the 26th minute, Megan Carey scored her second goal of the match for Santa Cruz to go up 3-0 on the Hawks.
Katie Hoefgen would get the Scarlet Hawks on the board before halftime. On an assist from Venika Jarvis, Hoefgen scored in the 36th minute to bring the match to a 3-1 score.
Just one goal was scored in the second half. Carey completed her hat trick on a free kick in the 88th minute.
Scarlet Hawk Standouts
Hoefgen scored on her only shot on net. She had two shots total.
Jarvis added an assist.
Anida Phetchanpheng led the Scarlet Hawks with three shots, all of which were on net.
Jessica Park made 17 saves in the loss.
Stats to Know
The Scarlet Hawks were outshot 32-7.
Illinois Tech attempted four corners compared to just one for UC Santa Cruz.
No cards were issued in the match.