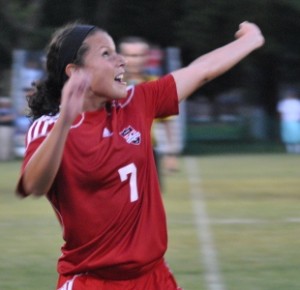 Box Score 1
Box Score 2
Grand Rapids, MI – Illinois Tech women's soccer lost their first game of a two-game swing in Grand Rapids, Michigan to Aquinas College 2-0. Tech started off strong with several shots with one banging off the cross bar.
A defensive mistake allowed Aquinas to get a corner kick in the 31st minute. Elizabeth Vaughan headed home the corner and that was the only scoring in the first half.
Scarlet Hawk midfielder Veronica Torres broke free for a one on one with Aquinas goalkeeper Kelsey Duley. Duley sprawled out for a fantastic save to keep the score at 1-0. Natalie Walter from Aquinas added a goal in the 75th minute to end the scoring.
The Scarlet Hawks controlled the possession but could not muster much offensive fire power with 11 shots and only one on goal.
IIT played Davenport University in the 2nd game and fell 3-1. The Panther's Eli Page scored two goals in the first half to go in with a 2-0 lead. The Scarlet Hawks pressured the Panthers into an own goal in the 71st minute to close within one. Davenport's Letesha Cannonier added a goal in the 87th minute.
Amy Arnhart and Jessica Carlson split the halves in goal for IIT.
The Scarlet Hawks host Mount Mary College on Sunday, September 11th at 2pm CST.