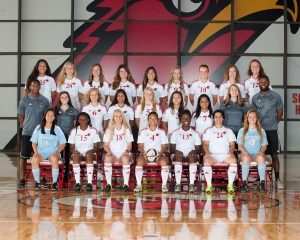 The Illinois Tech Women's Soccer team played host to St. Mary of the Woods in a matchup of two USCAA schools on September 21. The Scarlet Hawks found the win column as they beat the Pomeroys 2-1.
How It Happened
It was an early start for the Pomeroys, as Yadira Castellanos would open up the scoring with an unassisted goal seven minutes into the game.
The Scarlet Hawks continual offensive pressure would eventually pay off when off a Kirsten Robinson corner kick, the rebound would find Madison Harris for the goal. The goal came with only 16 seconds remaining in the half.
The second half saw more offensive pressure from the Scarlet Hawks. This time, the offense capitalized on a free kick goal from Kirsten Robinson in the 84th minute.
The Illinois Tech defense stood strong for the remainder of the match, as the team took home a 2-1 victory.
Scarlet Hawk Standouts
Madison Harris would score once on three shots, with her tally coming on her only shot on goal.
Kirsten Robinson had one shot on goal and four shots total. Her goal also came on her lone shot on net.
Elizabeth Bremer would also tally three shots with one shot on goal.
Stats to Know
Both teams would combine to have six shots in the first half.
Illinois Tech would outshoot SMW 11-1 in the second half, with eight of the Illinois Tech shots coming before the Pomeroys only shot.
The Scarlet Hawks would attempt seven corner kicks to SMW's three.
Up Next
The Scarlet Hawks open up a three-match road trip on Friday, September 23 at Rockford. Game time is set for 5 p.m.