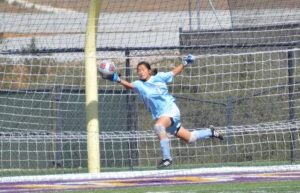 The Illinois Tech Women's Soccer team wrapped up the season on October 25 with a match against Elmhurst College at Stuart Field. Illinois Tech fell 2-0 and moved to 6-12-1 on the season.
How it Happened
Despite outshooting the Scarlet Hawks 8-2 in the first half, Elmhurst was held scoreless by the Illinois Tech defense. Reigning USCAA Goalkeeper of the Week Jessica Park stopped four shots in the first 45 minutes.
The Bluejays were able to get on the board in the second half, scoring in the 51st minute. An unassisted goal from Sidney O'Keeffe gave EC a 1-0 lead.
Another O'Keeffe, Courtney, was able to score for Elmhurst just nine minutes later to build the lead.
Katie Hoefgen recorded two shots on goal over the final thirty minutes of the match, but the Scarlet Hawks were unable to find the back of the net.
Scarlet Hawk Standouts
Park recorded seven saves in the loss.
Both of Hoefgen's shots were on net.
Anida Phetchanpheng, who was named AD3I Player of the Week earlier in the day, recorded two shots.
Stats to Know
EC outshot Illinois Tech 18-6.
Elmhurst had five corners compared to just one for Illinois Tech.
The Bluejays had the match's only yellow card.