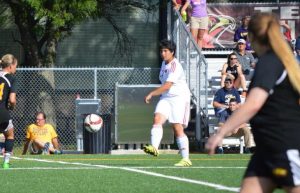 The Illinois Tech Women's Soccer team opposed Cal Lutheran on the final day of the trip to California. The Scarlet Hawks were defeated by a score of 5-1 to move to 4-10-1.
How it Happened
Things were tight in the first half, with Cal Lutheran outshooting Illinois Tech 8-5. The only half's tally belonged to Lutheran in the 32nd minute.
The offense picked up for Lutheran after the intermission, as the team scored in the 52nd and 67th minute to pull ahead 3-0.
Illinois Tech would get on the board in the 87th minute, when Golbou Azadeh-Tehrany scored off of a rebound from Anida Phetchanpheng. It was the first goal and assist of the season for both players.
Cal Lutheran's Tessa Dwyer scored in the 87th and 89th minutes to bring the score to its 5-1 final.
Scarlet Hawk Standouts
Azadeh-Tehrany scored on her only shot.
Phetchanpheng added an assist and two shots.
Daisy Tellez and Madison Harris also chipped in two shots each.
Stats to Know
The Scarlet Hawks were outshot 28-9.
Corner kicks were in favor of Cal Lutheran (8-1).
The match featured no cards for either team and just 12 combined fouls.
Up Next
Women's Soccer has a week off from competition before the team plays at North Park University on Monday, October 17. Match time is set for 7 p.m.