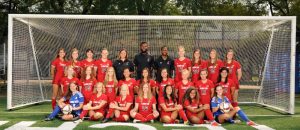 The Illinois Tech Women's Soccer team fell 3-0 to Dominican on October 24 at Stuart Field.
How It Happened
 Dominican struck first in the seventh minute as Holli Cochran banked one in from outside the box. Cochran notched her 15th goal of the season shortly thereafter
 Dominican went into the half with a 2-0 advantage.
 Potential NACC Player of the Year Josseline Williams scored her 23rd goal of the season in the 47th minute.
Scarlet Hawk Standouts
Up Next
The NACC Tournament begins on Saturday, October 27. The Scarlet Hawks' second place-finish earned them a first-round bye. Illinois Tech will face MSOE, Concordia Chicago, or Concordia Wisconsin on Tuesday, October 30 at 7 p.m. at Stuart Field.