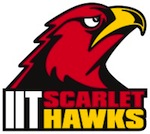 Illinois Tech women's soccer lost 1-0 to a spirited Saint Marys side on Friday. The Scarlet Hawks controlled the possession but lacked ingenuity in the final third in the loss.
Saint Marys found the back of the net in 37th minute to take a 1-0 lead into the break.
The Hawks dominated possession in the 2nd half and outshot the Belles 11 to 2 in the stanza but could not muster any dangerous opportunities. Amy Arnhart collected two saves on the night.
The Scarlet Hawks fall to 4-3 on the season with one non-conference game remaining this Saturday, September 25 against Davenport University at 2 pm.
A raucous crowd is expected on Saturday with Homecoming activities and special recognition for the five Hawk seniors; Steph Salem, Emily Kunkel, Megan Meeke, Misa del Ninno, and Meagan Sarratt.