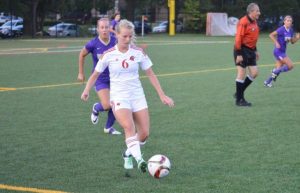 The Illinois Tech Women's Soccer team competed at the University of Chicago on October 20 against the nationally ranked Maroons. Illinois Tech fell 4-0.
How it Happened
The first half was controlled by the Maroons, starting as early as the 12th minute. Chicago's Mia Calamari scored on a turnover in the box to put UC up 1-0.
Just four minutes later, Chicago's Jenna McKinney scored just under the crossbar to extend the lead to 2-0.
In the 22nd minute, Chicago added on. McKinney scored a second time, and the 3-0 score held into halftime.
The second half was more defensively dominated, but Chicago managed a goal in the 45th minute courtesy of Rachel Dias.
Scarlet Hawk Standouts
Stats to Know
Chicago outshot the Hawks 31-7.
Chicago attempted 11 corner kicks compared to zero for Illinois Tech.
No cards were issued for the match.
Up Next
The Scarlet Hawks will host Alverno College on Saturday, October 22 at 2 p.m. for Senior Day. Live audio, video, and stats will be available. The live audio will be powered by Illinois Media School.