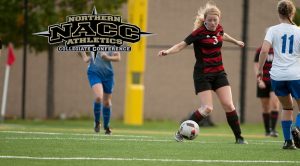 The Northern Athletics Collegiate Conference (NACC) has released its women's soccer preseason poll. New to the conference and NCAA Division III in 2018–19, the Scarlet Hawks were picked to finish seventh out of the league's 12 teams.
Illinois Tech earned a total of 147 points, slotting behind Dominican (283 points, 19 first-place votes), Milwaukee School of Engineering (264 points, five first-place votes), Aurora (229 points), Concordia-Wisconsin (229 points), Marian (167 points), and Benedictine (151 points). Illinois Tech edged out Edgewood (132 points) to hold seventh place.
The poll is voted on by the NACC's head coaches and sports information directors. Conference regular season standings determine the teams that qualify for the six-team conference tournament, while the tournament champion receives the league's automatic bid to the NCAA Division III Championship Tournament.
Last season, women's soccer finished with an 8-10-1 record, posting a 6-2-0 mark in October. The 2018 season begins on Saturday, September 1 at 1 p.m. at Stuart Field against Anderson University.
Live audio, video, and stats are set to be available for all women's soccer home events. The live audio will be powered by Illinois Media School.