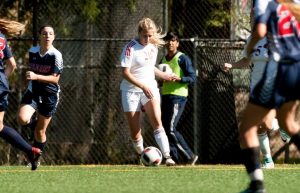 The Illinois Institute of Technology Women's Soccer team is excited to announce its 2018 schedule. This year's rundown features 20 total matches: nine at Stuart Field, and 11 against Northern Athletics Collegiate Conference (NACC) opponents.
"This fall marks a very exciting time for Illinois Tech Athletics and for our women's soccer program, as we will be ushering in our school's official membership as a NCAA DIII program and a member of the NACC," said Head Coach Roshane Ellison. "Both memberships provide us a greater sense of visibility and identity, which our student-athletes are very excited about."
After an exhibition against North Central College on Sunday, August 26, the Scarlet Hawks open the regular season with two home non-conference matches. On Saturday, September 1 Illinois Tech plays host to Anderson University (Indiana) at 1 p.m. at Stuart Field. The next day, Whitman College, which is located in Walla Walla, Washington, travels to Chicago to play the Scarlet Hawks at noon.
Illinois Tech women's soccer looks to build off of an 8-10-1 record last season and a +21 goal differential (58-37). All home matches this year are expected to have live audio, video, and statistics. All live audio will be powered by Illinois Media School.