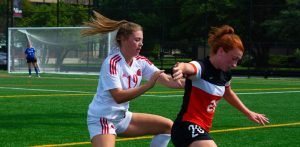 The Illinois Tech Women's Soccer team (9-1-1) suffered its first loss of the season against the North Park University Vikings (4-5-1), dropping the non-conference match 3-2.
How it Happened
After each goalkeeper saved the first shot they saw, North Park's Sam Moreno scored her 11th goal of the season by going top-shelf, giving North Park a 1-0 advantage 16:54 into the match.
One of the match's most influential stretches came between 28:18 and 32:40. Over a less than four minute span, the Scarlet Hawks had four shots on net saved by Viking netminder Theresa Weiss, one of which was a highlight-reel diving stop. After finally gathering possession, North Park's Nikolet Baxevanakis scored on a Emica Quigley assist at the 32:40 mark.
Illinois Tech's Katie Hoefgen tallied her 12th goal of the match on a breakaway, taking a pass from Caeli Kennedy just before halftime to cut the lead in half.
The Scarlet Hawks came out firing, taking five shots over the first 15 minutes of the second half.
NPU scored first in the second half, with Clara Wernbo giving the Vikings a 3-1 lead with 15 minutes to play.
With less than eight minutes to go, Hoefgen again found the back of the net thanks to a feed from Madison Harris.
Hoefgen had another shot attempt saved by Weiss in the 85th minute. With 40 seconds left to play, Illinois Tech had one final chance with a Julia Taliana corner kick but the Vikings defense held strong to preserve the result.
Scarlet Hawk Standouts
Hoefgen took seven shots (six on goal) for her two goals.
Kennedy had an assist and three shots (one on net).
Harris had an assist.
Stats to Know
North Park's Weiss stood tall with nine saves.
The Scarlet Hawks out shot the Vikings 17-15 overall and 11-10 on net.
Up Next
Northern Athletics Collegiate Conference play resumes on Wednesday, October 3 when the Scarlet Hawks travel to Concordia University Chicago for a 4 p.m. match.