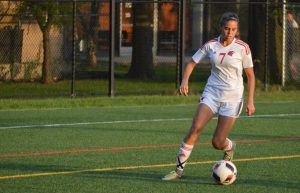 The Illinois Tech Women's Soccer team turned in a dominant performance on October 5 against the Rockford Regents that led to a 12-0 win, the team's largest goal output in three seasons. On October 7 the team traveled to St. Mary of the Woods in Indiana and secured what turned out to be an easy victory on the road with a 5-1 win.
How it Happened – Rockford
In the first few minutes of the match, the Scarlet Hawks were an offensive force. Brianne Dane put Illinois Tech ahead in the match's first minute with her first collegiate goal.
Katie Hoefgen assisted on the first goal. She didn't waste any time finding the back of the net herself, scoring twice over the next few minutes. Taliana assisted on both goals.
In the 16th minute, Hoefgen completed an early hat trick on a breakaway to make the score 4-0.
Brianna Kelly scored her first collegiate goal a few minutes later, once again from Hoefgen. Taliana scored courtesy of Daisy Tellez a few minutes later.
One of the most impressive goals of the half may have been the seventh for Illinois Tech, as Erin James lofted a beautiful pass from the defensive zone to lead Taliana, who had a one-on-one goal. Taliana scored once again for her hat trick courtesy of Tellez.
After assisting twice, Tellez scored herself off of a deflection.
In the second half, Taliana and Hoefgen connected once again for Illinois Tech's 10th goal. Talina followed that up with a goal of her own to make the score 11-0.
Kirsten Robinson also joined in on the scoring, as a Katherine Nishimoto corner kick led to a James header, which set-up Robinson for her second tally of the season.
Scarlet Hawk Standouts
Taliana scored four times, had three assists, attempted 12 shots, and had seven shots on goal.
Hoefgen also had four goals to go along with two assists, five shots, and four shots on net.
Tellez scored once and had two assists.
Dane scored and had three shots, all of them on net.
Kelly had a goal on three shots and two shots on net.
James assisted twice.
Robinson scored a goal on eight shots.
Stats to Know
Shots were in favor of Illinois Tech (42-6).
Illinois Tech had 10 corners compared to two for the Regents.
Fouls were few and far between, as just a combined eight were called (five for Rockford, three for Illinois Tech).
The 12 goals were a most in a match for Illinois Tech since a 17-0 win over Finlandia on November 2, 2014.
How it Happened – St. Mary of the Woods
Robinson tallied the first score for Illinois Tech with an unassisted goal about a third of the way through the first half
The Scarlet Hawks doubled the lead near the end of the first half when Taliana scored her 14th goal on the season—the second unassisted goal on the day
Mary of the Woods struck early in the second half to cut the lead to 2-1 with an unassisted goal from Hannah Miller.
In the 63rd minute, Taliana countered with her second goal of the match, assisted by Hoefgen, rebuilding the two-goal lead
Dane immediately followed with a goal to put Illinois Tech up 4-1. Dane added on a second goal ten minutes later to make the score 5-1 and put the game out of reach.
Scarlet Hawk Standouts
Taliana scored twice (11 and 12 on the year) on five shots on goal.
Dane scored two goals on four shots on goal.
Robinson connected on her only shot attempt of the match.
James and Hoefgen both added a single assist each.
Goaltender Elizabeth Bremer only saw four goals and stopped three.
Stats to Know
Shots were in favor of Illinois Tech (23-4).
The Scarlet Hawks connected on 33% of the total shots on goal (five of 15).
Illinois Tech had seven fouls, St. Mary of the Woods had five.
Illinois Tech also led in corner kicks 3-2.
Up Next
Illinois Tech will play at Stuart Field on Wednesday, October 11 at 6 p.m. against Carroll. Live audio, video, and stats will be available. The live audio will be powered by Illinois Media School.