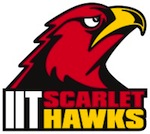 The Illinois Tech women's soccer team won 2-0 against Grace College in their season opener at Hefner Field in Fort Wayne, Indiana, on Saturday.
Sophomore Heather Bickerton (Blackburn, England) scored off a cross from Diana Otero (Carmel, Indiana) for the team's winning goal at 44 in the first half. Lauren Capuano, a sophomore from St. Charles, Missouri, sealed the victory with an unassisted goal in the 82nd minute. Illinois Tech goalkeeper Amy Arnhart had four saves in the victory. Illinois Tech held a 17 to 9 advantage in shots for the game.
The Scarlet Hawks will host Viterbo University at 1 pm this Sunday, August 29, at Stuart Field.
Visit the Illinois Tech Athletics website regularly for Scarlet Hawk scores, news, and other announcements.