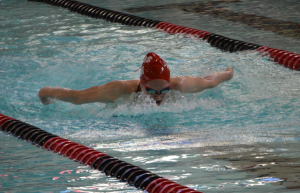 The Illinois Tech Women's Swimming and Diving team opened the home schedule on November 5 with another strong performance. The Scarlet Hawks defeated Liberal Arts Conference foe Loras College 159-54.
Meet Highlights
After earning a Player of the Week honor last week, Katherine Lydon picked up right where she left off on November 5. The freshman won both the 1000 Yard Freestyle (11:00.11) and 500 Yard Freestyle (5:22.81) events. She was joined by Delaney Shepherd (5:42.92), Madeline Lane (5:58.50), and Grace Wischmeyer (5:59.53) to round out the top four of the 500 Yard Freestyle event.
Lydon, along with Jasmine Duke, Jamie Wurster, and Emma Prager, won the 400 Yard Freestyle Relay with a time of 3:52.53.
Prager won both the 200 Yard Freestyle (2:08.63) and 100 Yard Breaststroke (1:10.87) events. Brigitte Temple was also strong in the 100 Yard Breaststroke with a time of 1:11.10, which complemented her 400 Yard Individual Medley victory (4:57.14).
Duke also built off of her Player of the Week winning performance at Beloit with another strong day. She won the 50 Yard Freestyle (26.17s) and placed second in the 100 Yard Backstroke (1:05.01).
In addition to her contribution on the 400 Yard Freestyle Relay, Wurster won the 100 Yard Freestyle event with a time of 58.05s.
Kristin Wills (1:04.66), Briana Tyler (1:05.17), and Lavinia Santos (1:09.01) swept the 100 Yard Butterfly event.
Up Next
The Scarlet Hawks will host both Illinois Wesleyan and Carthage on Saturday, November 12 at 1 p.m. at Ekco Pool.