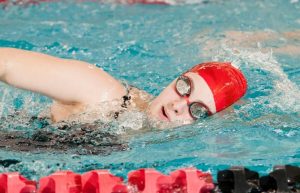 The Illinois Tech Women's Swimming and Diving team swept the competition during its first meet of the season at Ekco Pool on October 20. Illinois Tech topped Illinois College 163-45 and defeated St. Ambrose University 156-56. The team traveled to Anderson, Indiana, the very next day to compete against top competitor Franklin University and host Anderson University. The Scarlet Hawks bested Anderson (152-40) but fell short to Franklin (153-50).
Meet Highlights – October 20
The top two 400 Yard Medley Relay teams dominated at the top. The "A" relay, finishing with a time of 4:17.59, started strong with Katy Lydon's backstroke and finished with Brigitte Temple's breaststroke performance, Briana Tyler's butterfly, and Jamie Wurster's freestyle. The "B" relay finished close behind with a time of 4:35.90 thanks to Haley Slator, Milica Gvozdjan, Lavinia Santos, and Christina Hiotaky.
Lydon was untouchable as she won the 200 Yard Freestyle, finishing with an impressive time of 2:01.48. She was also a force in the 500 Yard Freestyle, gliding into the wall in first place (5:23.45).
Temple snagged first place in the 200 Yard IM, finishing with a time of 2:23.05.
The 1000 Yard Freestyle also had the top two finishers thanks to Delaney Shepherd's 11:58.14 and Madeline Lane's 12:34.62 finishes.
Illinois Tech finished strong with the 100 Yard Breaststroke, nabbing the top three spots in the event with Temple (1:11.58) claiming first, Emma Prager finishing second with a 1:15.26 time, and Gvozdjan placing just moments after with a 1:15.67 time.
Meet Highlights – October 21
Lydon was strong in the 1000 Yard Freestyle, placing second with a time of 11:13.07.
Wurster (third place, 26.19s) and Tessa Skubal (fourth place, 27.73s) turned in impressive 50 Yard Freestyle times. Wurster also placed third in the 100 Yard Backstroke at 1:07.56.
Tyler (2:22.86) and Temple (2:24.85) both had strong swims in the 200 Yard IM, coming in third and fourth place. Tyler also finished strongly in the 100 Yard Butterfly, touching second with a time of 1:02.58. Temple finished steady, clinching third in the 100 Yard Breaststroke at 1:10.55.
The Scarlet Hawks' 400 Yard Freestyle Relay (Wurster, Tyler, Hiotaky, and Lydon) swam 3:55.06, coming in at second place just six seconds behind Franklin.
Up Next
The Scarlet Hawks will host UW-Whitewater and Beloit College on Saturday, October 28 at 1 p.m. at Ekco Pool. A live video stream will be available.