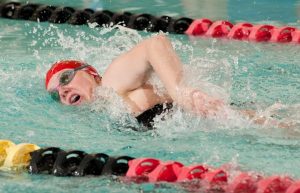 On January 28 the Illinois Tech Women's Swimming and Diving team swam at Lake Forest College. In the team's last meet prior to the Liberal Arts Championships in early February, Illinois Tech tied the Foresters 110-110.
Meet Highlights
Katherine Lydon continued her banner season with a 200 Meter Individual Medley victory (2:37.25). She also won the 400 Meter Freestyle with a time of 4:44.27.
The 200 Meter Freestyle was won by Illinois Tech's Jasmine Duke with a time of 2:19.09.
Jamie Wurster won the 100 Meter Freestyle with a time of 1:04.98.
The 200 Meter Freestyle Relay team of Duke, Wurster, Briana Tyler, and Lydon placed first at 1:57.59. The 200 Meter Medley Relay team (Kristin Wills, Brigitte Temple, Lavinia Santos, and Wurster) finished second in the event.
Tyler placed second in the 100 Meter Butterfly with a time of 1:11.82.
In the 100 Meter Backstroke, Wills (1:12.46) and Duke (1:12.62) placed second and third respectively.
Milica Gvozdjan and Wills finished second and third in the 100 Meter Breaststroke with times of 1:26.91 and 1:27.33.
Up Next
The Scarlet Hawks will compete in the Liberal Arts Championships from Wednesday, February 8 through Saturday, February 11. The four-day meet will take place at Principia College in Elsah, Illinois.