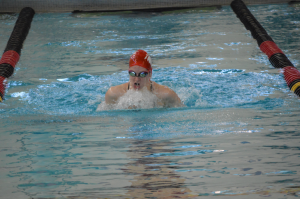 The Illinois Tech Women's Swimming and Diving team hosted a double dual on November 12 in Keating Sports Center's Ekco Pool, opposing some of the region's top Division III competition in Carthage College and Illinois Wesleyan University. The Scarlet Hawks fell in close fashion, as Illinois Tech was defeated by IWU 157-142 and by Carthage 182-118.
Meet Highlights
Brigitte Temple won two events and placed second in another. She took first place in both the 100 Yard (1:09.66) and 200 Yard Breaststroke (2:32.86) while earning a second-place finish in the 200 Yard Individual Medley with a time of 2:20.21. Emma Prager was not far behind Temple in the breaststroke events, placing third in both the 100 Yard (1:12.29) and 200 Yard (2:35.33) races. Briana Tyler (third place, 2:22.56) and Prager (fourth place, 2:23.25) also followed Temple in the 200 Yard Individual Medley.
Katherine Lydon continued her incredible freshman season with some more impressive finishes. She won the 200 Yard Freestyle with a time of 1:57.80. In addition, she placed second in both the 100 Yard (55.19s) and 500 Yard (5:12.88) Freestyle.
The 200 Yard Medley Relay team of Kristin Wills, Temple, Lavina Santos, and Jasmine Duke placed second with a time of 1:55.27.
Wills and Duke also earned third-place finishes in individual events. Wills placed third in the 200 Yard Butterfly (2:21.52), while Duke placed third in the 100 Yard Backstroke (1:04.41).
Paige Mass placed third in both 1 Meter Diving portions of the meet, earning scores of 123.95 and 159.60 for a 283.19 combined score.
The 200 Yard Freestyle Relay team of Duke, Tyler, Jamie Wurster, and Lydon placed third with a time of 1:44.72.
Up Next
The Scarlet Hawks will swim in the University of Chicago Phoenix Fall Classic from Friday, November 18 through Sunday, November 20.