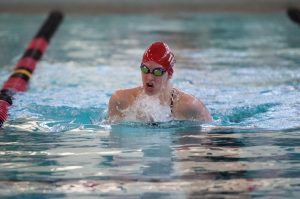 The Illinois Tech Women's Swimming and Diving team closed out the season on February 17 during the final day of the Liberal Arts Championships at Luther College. In a very tight finish, the Scarlet Hawks placed fourth with 425 points.
February 16 Highlights
The Scarlet Hawks had two finalists in the 400 Yard Individual Medley on February 16, both finishing in the top eight. Brigitte Temple (third, 4:42.06) and Kristin Wills (seventh, 4:53.90) both scored points for Illinois Tech.
Briana Tyler continued her strong season in the 100 Yard Butterfly, placing fourth with a time 1:00.38.
One of Illinois Tech's strongest events was the 200 Yard Freestyle, as Katherine Lydon (fourth, 1:57.17), Delaney Shepherd (13th, 2:05.19), Madeline Lane (14th, 2:08.93),  and Ava Obenaus (16th, 2:09.32) all reached the finals.
In the 100 Yard Breaststroke, Temple placed second with a time of 1:07.25. Emma Prager was also strong, placing seventh at 1:11.51.
To wrap up the day, Illinois Tech placed third in the 200 Yard Medley Relay. Wills, Temple, Tyler, and Lydon combined for a time of 1:51.42.
Final Rankings
Franklin (815.5)
Coe (430)
Luther (427)
Illinois Tech (425)
Loras (328)
Morningside (258.5)
Minnesota-Morris (247)
Mills (209)
Simpson (185.5)
Nebraska Wesleyan (172.5)
Principia (56)
February 17 Highlights
Lydon was strong in the 1650 Yard Freestyle, placing fourth with a time of 17:58.36. Shepherd also scored points for Illinois Tech with a 19:24.81 time (10th place), as did Lane (11th, 19:49.34) and Obenaus (12th, 20:00.26).
In the 100 Yard Freestyle, both Jamie Wurster (eighth place, 57.19s) and Christina Hiotaky (15th place, 58.00s) qualified for the final.
Temple was dominant in the 200 Yard Breaststroke, winning the event with a time of 2:24.22 and setting a Luther College pool record. Prager (eighth, 2:35.44) and Milica Gvozdjan (15th, 2:44.24) were also finalists.
Tyler (2:16.24) and Wills (2:19.30) were impressive in the 200 Yard Butterfly, finishing fourth and fifth respectively. Lavinia Santos also reached the finals, placing 16th (2:44.47).
Christian Jones placed seventh in the 1 Meter Diving competition with a score of 308.45.
The Scarlet Hawks closed the day with a fourth-place finish in the 400 Yard Freestyle Relay, as Temple, Wills, Tyler, and Lydon recorded a time of 3:43.85.