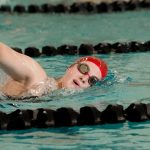 The Illinois Tech Women's Swimming and Diving team competed in the University of Chicago Phoenix Fall Classic November 17–19. Illinois Tech finished in seventh place with a total of 193 points.
Meet Highlights – November 17
Meet Highlights – November 18
In the 200 Yard Medley Relay, Wills, Temple, Tyler, and Lydon combined for a 12th place finish (1:53.22).
Lydon reached the finals in the 500 Yard Freestyle, placing ninth with a time of 5:11.55. Her time won the "B" Final heat by nearly 10 seconds and was a 14-second improvement from her preliminary time in the morning.
Temple placed fifth in the 100 Yard Breaststroke at 1:07.92.
In the 200 Yard Butterfly, Tyler placed 14th with a time of 2:15.91. She improved from her preliminary time by nearly three seconds.
Lydon, Wurster, Temple, and Shepherd placed 12th in the 800 Yard Freestyle Relay with a time of 8:19.15.
Meet Highlights
In the 400 Yard Individual Medley the Scarlet Hawks had two finals qualifiers with Temple (seventh, 4:48.26) and Lydon (ninth, 4:43.88) earning points for Illinois Tech.
Temple was also great in the 200 Yard Breaststroke, placing fifth with a time of 2:28.17.
Emma Prager also qualified for the finals in the 200 Yard Breaststroke, placing 14th at 2:34.73.
Illinois Tech's 400 Yard Freestyle Relay team of Lydon, Tyler, Hiotaky, and Wurster finished in 10th place (3:47.69).
Up Next
The Scarlet Hawks will host the Ted Erikson Invite on Saturday, December 2 at 1 p.m. in Keating Sports Center's Ekco Pool. Live video for the meet will be made available.