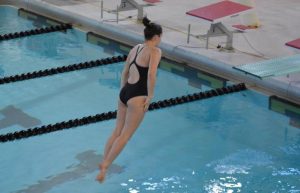 Illinois Tech Women's Swimming and Diving hosted Carroll University in Keating Sports Center's Ekco Pool on January 21. Illinois Tech was impressive on Senior Day, beating the Pioneers 138-100.
Meet Highlights
Briana Tyler won her heat and set a season-best in the 200 Yard Butterfly with a time of 2:20.34. 
The Scarlet Hawks' 200 Yard Freestyle Relay team of Jasmine Duke, Jamie Wurster, Tyler and Katherine Lydon had a strong swim and finished first with a time of 1:45.27. In the same race, Lavinia Santos, Emma Prager, Madeline Lane, Milica Gvozdjan also put together a strong relay and finished third (1:57.88).
Lydon came out on top in the 200 Yard Freestyle with a time of 2:00.06 and the 200 Yard Backstroke at 2:16.56.
Duke and Grace Wischmeyer finished second and fourth (Duke 2:05.73, Wischmeyer 2:15.47) in the 200 Yard Freestyle behind Lydon.
Kristin Wills won the 400 Yard Individual Medley (5:00.12) and finished second in the 200 Yard Backstroke (2:23.50).
Prager won the 200 Yard Breaststroke with a time of 2:32.37.
Paige Mass and Christian Jones finished first and second in the first portion of 1 Meter Diving, earning scores of 140.80 and 122.25 respectively. In the second portion, the Hawks swept and finished first, second and third (Mass 175.50, Elly Shin 156.45, Jones 155.95).
Up Next
The Scarlet Hawks will visit Lake Forest College on Saturday, January 28 at 1 p.m.