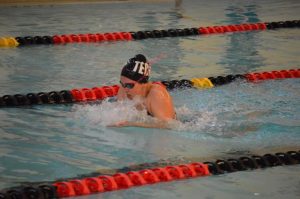 The Illinois Tech Women's Swimming and Diving team started the 2016-17 season in dominant fashion on October 29 at Beloit College. The Scarlet Hawks won all 11 events, winning the dual meet by a score of 148-39.
Meet Highlights
A few returnees won multiple events for the Scarlet Hawks. Brigitte Temple was victorious in both the 100 Yard Butterfly (1:06.06) and 100 Yard Breaststroke (1:12.35), while Jasmine Duke took home first-place finishes in the 50 Yard Freestyle (26.25s) and 100 Yard Freestyle (57.07s).
Katherine Lydon started off her collegiate career with a dominant performance. Her 200 Yard Freestyle time of 1:59.94 not only won the event by over 20 seconds, but figures to be one of the fastest times in the Liberal Arts Conference after this weekend's results. The same can be said for the 500 Yard Freestyle, as her time of 5:22.60 also figures to be at or near the top of the conference leaderboards.
Lydon was also a member of the 200 Yard Freestyle Really winning team. The freshman, along with Jamie Wurster, Emma Prager, and Duke finished with a time of 1:47.33.
Prager was also strong in her first collegiate meet, earning the victory in the 200 Yard Individual Medley with a time of 2:23.20.
Delaney Shepherd had one of her best collegiate swims, winning the 1000 Yard Freestyle with a time of 11:52.83.
Quote from the Coach
"I'm very happy with the way we performed considering the circumstances," said Head Coach Kyllian Griffin. "Mechanical issues resulted in a combination of dryland workouts and shortened practices at the University of Chicago early in the week in order to continue the team's training regimen. We had a number of very solid swims and are off to a great start for the rest of the season."
Up Next
The Scarlet Hawks will host Loras College on Saturday, November 5 at 1 p.m. to open the home schedule.