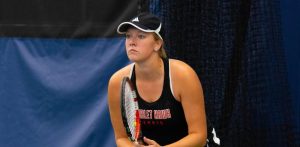 The Illinois Tech Women's Tennis team put forth an incredibly impressive effort on September 15, dominating Northern Athletics Collegiate Conference (NACC) foes Concordia-Chicago (0-5, 0-4) and Dominican (0-5, 0-5). Morgan Colbert was a perfect 40-0 in singles games as the Scarlet Hawks won both matches 9-0.
Day Highlights
Colbert was a 6-0, 6-0 winner in both singles matches and paired with Mouna Chahin and Alison McKenney to win 8-0 in #2 doubles in each match.
Playing in #2 singles and also winning 6-0, 6-0 in each match was Kylie Hance.
Chahin and Paulina Kulyavstev split the day in #6 singles, with Chahin winning 6-0, 6-0 against DU and Kulyavstev taking a 6-0, 6-0 win against CUC.
Against Dominican, the Scarlet Hawks lost just twice in all the slots combined (one in #1 singles, one in #4 singles).
Hance and Kaitlyn Graves were dominant as the #1 singles pairing, winning 8-1 against DU before an 8-0 win over CUC.
Up Next
Women's Tennis heads to the Intercollegiate Tennis Association Central Regional Friday, September 21 through Sunday, September 23.