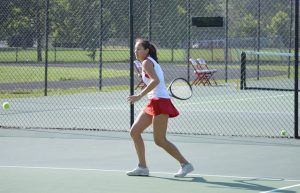 The Illinois Tech Women's Tennis team took down Illinois Wesleyan University on October 14. Illinois Tech was dominant from start to finish in an 8-1 win.
How it Happened
The Scarlet Hawks took control during doubles, with all three duos winning. Weronika Halicka and Morgan Colbert were particularly dominant in the #1 spot, winning 8-0.
The #3 doubles tandem of Allyson Trang and Shailee Shah trailed 5-0 in the tiebreaker before scoring seven straight to win 9-8.
In singles, Halicka won 6-0, 6-0 in the #1 spot.
Jennifer Young won 6-1, 6-1 in the #4 spot, while Colbert had a 6-1, 6-0 win in #2.
In a back-and-forth #6 singles, Paulina Kulyavstev managed to win 6-4, 1-6, 10-7 after coming back in the tiebreaker.