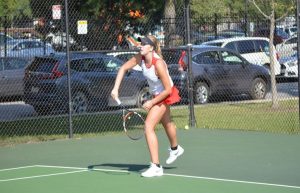 The Illinois Tech Women's Tennis team opened the spring season on March 3, facing a tough UW-Oshkosh team on the road. The Scarlet Hawks were defeated 6-3.
Match Highlights
The number one doubles tandem of Weronika Halicka and Morgan Colbert picked up where it left off in the fall season, winning 8-2.
Halicka also won in #1 singles, downing the competition 6-0, 6-2.
Colbert, who had a great singles fall as well, won in the #2 spot 6-3, 6-1.