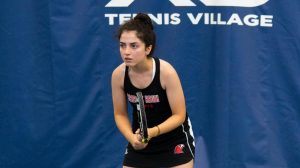 The Illinois Tech Women's Tennis team (8-2, 4-2 NACC) took on two Northern Athletics Collegiate Conference (NACC) opponents on September 29, hosting Edgewood College and Milwaukee School of Engineering at XS Tennis. After falling to Edgewood (6-2, 6-0 NACC) 6-3 in the morning, the Scarlet Hawks downed MSOE (4-7, 3-3) in the afternoon by a 9-0 score.
The Day's Highlights
Weronika Halicka and Morgan Colbert won 8-3 in #1 doubles before each winning in singles. Halicka was a 6-0, 6-0 victor over Sydney Verbauwhede, while Colbert won 6-4, 7-3 over Alyssa Carew.
#6 singles was a close decision, as Illinois Tech's Allison McKenney was edged out by EC's Jaclyn Swift 6-3, 2-6, 2-10.
All three doubles tandems were victorious against MSOE, with Halicka and Colbert winning 8-1 in the first spot. In singles, Halicka and Colbert were both 6-0, 6-0 winners.
Mouna Chahin was a big winner in singles as well, defeating MSOE's Lean Becker 6-0, 6-2 in #5. Kylie Hance (#4) and Sarah Oshana (#6) were both 6-3, 6-1 winners over their opponents.
Up Next
The Scarlet Hawks will be at home once again on Saturday, October 6 hosting Lakeland University (10 a.m.) and Marian University (2 p.m.) at XS Tennis.