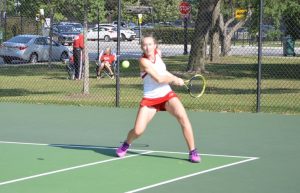 The Illinois Tech Women's Tennis team turned in some amazing performances during the Intercollegiate Tennis Association Central Regional.
September 22
Both Weronika Halicka and Morgan Colbert competed on September 22. The pair lost in doubles, but each won in the opening round of the singles portion.
After the duo fell 8-3 in doubles to Laura Gutierrez and Catherine Xu of University of Chicago, Halicka opened her bid in the "A" bracket of the singles tournament with a dominant performance. She downed Maidysn Rini of John Carroll 6-1, 6-1.
Colbert also won in the open bracket, downing Olivet Nazarene University's Ola Latala 6-2, 6-3.
September 23
Halicka headlined the day, advancing to the quarterfinals of the "A" draw singles bracket.
Halicka took down WashU's Ally Persky 5-7, 6-4, 6-2 to set up a matchup with third-seeded Lauren Hawley of Denison University. Halicka was able to upset Hawley in dominant fashion, winning 6-2, 6-1.
Colbert played her final "B" draw singles match as well, winning her match 6-2, 6-3. Colbert and Halicka also advanced to the semi-finals of the doubles backdraw, winning matches 8-3 and 8-1.
September 24
Halicka and Colbert continued to roll through the doubles backdraw, walking away as champions. The tandem beat ninth-seeded Kalamazoo twice before downing Case Western Reserve in the backdraw championship to earn the title.
Halicka, playing in the singles "A" draw quarterfinals, was defeated by Ashley Lessen of WashU 6-4, 7-5. It wrapped up a magical run for Halicka, who beat several of the region's top players to reach the final eight.
Between the singles and doubles contests, Colbert finished the weekend 7-1, a remarkable showing for a freshman.