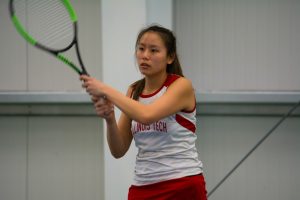 The Illinois Tech Women's Tennis team defeated the Roosevelt University Lakers on September 1. On September 3 a #6 singles win for Alison McKenny broke a 4-4 tie, allowing the Scarlet Hawks to edge Olivet Nazarene University 5-4 and move to 4-0 on the season. The Tigers, playing for the first time in 2018, dropped to 0-1.
How it Happened – Roosevelt
How it Happened – Olivet Nazarene 
Tech jumped out to a lead in doubles against to the NAIA scholarship school. The duo of Halicka and Colbert remained unbeaten with an 8-3 win over Susana A. Martinez and Dana Huck.
In #2 doubles, the freshman tandem of Hance and Graves followed suit with an 8-4 victory against Anna Belschner and Grace Matheis.
Singles saw Halicka (#1) and Colbert (#2) remain unbeaten on the year as well, with Halicka downing a very tough Martinez 6-0, 6-3 and Colbert taking care of Huck 7-6 (4-0, 6-1).
The first five singles matches to finish were the first through fifth spots, creating the picture of a 4-4 tie with #6 still left to finish. In what Head Coach Erik Scanlan characterized as a "very clutch performance," McKenny downed ONU's Maddie Holdren 6-0, 7-5 to hold off the Tigers.
Up Next
On Saturday, September 8 Illinois Tech will face some of the Northern Athletics Collegiate Conference's top teams, squaring off against NACC Tourney qualifier Wisconsin Lutheran College at 10 a.m. and defending champion Concordia University Wisconsin at 2 p.m.