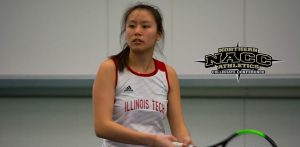 The Illinois Tech Scarlet Hawks are new to the Northern Athletics Collegiate Conference (NACC) this academic year, but the women's tennis team is already garnering respect. In the NACC's Preseason Poll, the Scarlet Hawks were picked to finish third out of the league's 11 teams.
Illinois Tech earned a total of 186 points and four first-place votes, finishing behind Concordia-Wisconsin (231 points, 14 first-place votes) and Edgewood (218 points, four first-place votes). The Scarlet Hawks edged out Milwaukee School of Engineering (171 points) and Marian (153 points) to hold third place.
The poll is voted on by the NACC's head coaches and sports information directors. Conference regular season standings determine the teams that qualify for the six-team conference tournament, while the tournament champion receives the league's automatic bid to the NCAA Division III Championship Tournament.
Illinois Tech enters the NACC and NCAA Division III on a strong note, finishing 9-8 overall, in 2017–18 with a 4-0 record against NACC schools. At the ITA Central Regional, Weronika Halicka reached the singles A-Draw quarterfinals, while Halicka and Morgan Colbert were winners of the doubles backdraw.
The 2017–18 season begins on Saturday, August 25. Illinois Tech will oppose Thomas More (noon) and Millikin (3 p.m.) at Millikin University.