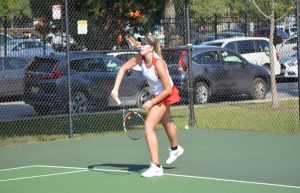 The Illinois Tech Women's Tennis team opposed Lake Forest College and Aurora University on October 1. Illinois Tech fell 6-3 to Lake Forest in the morning before a 7-2 victory over AU in the afternoon.
How it Happened – Lake Forest Match
Illinois Tech took one of the three doubles matches, as Weronika Halicka and Morgan Colbert won 8-1 as the top pairing.
Halicka also was victorious 6-0, 6-1 in #1 singles.
Colbert managed to win a tight, tiebreak match in #2 singles.
How it Happened – Aurora Match
The Scarlet Hawks rolled the Spartans in doubles, as AU only managed to win twice while Illinois Tech took 24. It featured an 8-1 win by #1 Halicka and Colbert, an 8-0 victory by #2 Sophia Nelson and Jennifer Young, and an 8-1 win by #3 Allyson Trang and Paulina Kulyavstev.
In singles, Halicka continued to dominate, winning 6-0, 6-0 in the #1 spot.
Nelson won in #3 singles 6-1, 6-1 while Trang won 6-0, 6-1 in #4 singles.
Up Next
The Scarlet Hawks will play under the lights on Tuesday, October 3 against one of the top teams in the region, UW-Whitewater. The match is set to begin at 6:30 p.m.