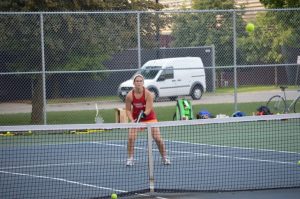 The Illinois Tech Women's Tennis team made history on August 26, playing and winning its first match in program history. The Scarlet Hawks took down Monmouth College 7-2 before falling 6-3 to host Millikin University.
How it Happened – Match One
Weronika Halicka impressed in the #1 singles spot, downing her opponent 6-0, 6-0.
#2 Morgan Colbert, #3 Sophia Nelson, and #5 Allyson Trang all won singles matches to give Illinois Tech a 4-2 advantage.
In doubles, all three of Illinois Tech's tandems were able to pull out victories. #1 Halicka/Colbert (8-0), #2 Nelson/Jennifer Young (8-4), and #3 Trang/Paulina Kulyastev (8-2) led the Scarlet Hawks to the 7-2 win.
How it Happened – Match Two
Halicka remained strong against Millikin, this time winning 6-0, 6-1 in the #1 singles spot.
Colbert also won again as #2, downing her opponent 6-0, 6-4.
Halicka and Colbert also won as the #1 doubles tandem, this time earning an 8-1 win.
Quote from Coach Erick Scanlan
"I am so proud of the foundation for the Tennis program that these ladies created today," said Erik Scanlan, who coached his first matches as a collegiate head coach. "The energy and effort has allowed us to develop and improve continually through practices and matches. Even though it wasn't the sweep we wanted, the path to our success was laid today. I couldn't be more proud of this team."
Up Next
The Scarlet Hawks will host the first home matches in program history on Saturday, September 2 at Dunbar Park in Chicago. The matches are set to begin at 9:30 a.m. and 3:30 p.m. Illinois Tech will oppose North Park University in the morning and Illinois Wesleyan University in the afternoon.