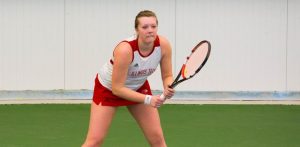 The Illinois Tech Women's Tennis team (5-1, 1-1) became the first squad in school history to compete in Northern Athletics Collegiate Conference (NACC) contests, facing Wisconsin Lutheran College and defending NACC champion Concordia University Wisconsin. The Scarlet Hawks began the day with a dominant 9-0 win over WLC before dropping a match to CUW 5-4.
How it Happened – WLC Match
The Scarlet Hawks started out strong, winning all three doubles matches in impressive fashion.
#1 (Weronika Halicka/Morgan Colbert) and #3 (Sarah Oshana/Allyson Trang) doubles were particularly strong, winning 8-1, 8-0 respectively.
In singles, the Warriors managed to win just eight games combined over the six slots, with no Illinois Tech athlete surrendering more than two.
Playing in #1 singles, Colbert was impressive with a 6-1, 6-0 win. Trang, competing in the #4 spot, was also a 6-1, 6-0 winner.
Mouna Chahin was dominant in #6 singles, downing WLC's Taylor Kresa 6-0, 6-0.
How it Happened – CUW Match
The Scarlet Hawks were in good shape through doubles after taking two of the three contests.
Halicka and Colbert were 8-3 winners in the #3 spot, while Trang and Oshana won 8-5 in the #3 spot.
As they have done throughout their Scarlet Hawk careers, Halicka and Colbert overwhelmed the opponent in #1 and #2 singles. Halicka won 6-2, 6-0 as Colbert was a 6-1, 6-2 winner.
The Falcons were able to take the final four singles spots to edge out the Hawks. Trang fought hard in the #5 spot, with both sets needing tiebreakers to decide the winner.
Up Next
The Scarlet Hawks will continue the NACC slate on Saturday, September 15 against Dominican University in Forest Park at 10 a.m. before opposing Concordia University Chicago at 2 p.m. on the school's River Forest campus.