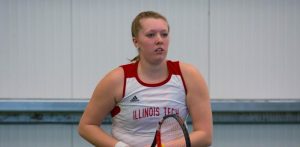 The Illinois Tech Women's Tennis team opened the fall schedule with two matches at Millikin University. The team downed Thomas More 6-3 before a commanding 9-0 victory over host Millikin.
Highlights – Thomas More
After going 19-3 as a doubles tandem last season, Weronika Halicka and Morgan Colbert picked up right where they left off. The dynamic duo topped Thomas More's first pairing of Brooke Warden and Nicole Capodagli 6-1.
A pair of freshmen, Kylie Hance and Kaitlyn Graves, were impressive in #2 doubles with a 6-0 win over Thomas More's Hannah Lowman and Alyssa Dowdell.
Halicka was 15-0 last year in regular-season singles matches. In 2018, she is now 1-0 after defeating Capodagli 6-0, 6-2 in the #1 spot.
Colbert was also victorious in #2 singles, defeating Dowell 6-2, 6-1.
Playing out of the #3 spot, Hance was also a winner in singles, downing Thomas More's Lacey Pohlman 6-3, 6-0.
Another freshman, Alison McKenney, was impressive in #6 singles, winning 6-1, 6-1 over Kayla Snyder.
Highlights – Millikin
All three of Illinois Tech's doubles tandems were victorious over Millikin. Halicka/Colbert (8-1), Hance/Kaitlyn Graves (8-4), and McKenney/Sarah Oshana (8-6) won in spots one, two, and three respectively.
Halicka (#1) and Colbert (#2) were dominant at the top of singles. Halicka was a 6-0, 6-1 winner over Morgan Bettner, while Colbert earned the 6-1, 6-2 victory over Shelby Jones.
Graves (#4), McKenney (#5), and Oshana (#6) were also winners. McKenney's win was particularly impressive, as she dominated to the tune of a 6-1, 6-0 win.
Up Next
The Scarlet Hawks open the home schedule on Saturday, September 1 at 10 a.m. against Roosevelt University at XS Tennis.