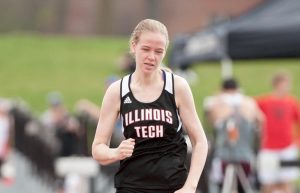 The Illinois Tech Women's Track and Field team competed in UW-Parkside's Green and White Invite on January 28. Illinois Tech placed fifth in the event.
Meet Highlights
The long jump was the premier event for the Scarlet Hawks, as three Illinois Tech athletes earned points. Jaquelle Rowell (fourth place, 4.90m), Mminika Effiong (sixth place, 4.70m), and Emmalee Ciriacks (eighth place, 4.50m) all finished in the event's top ten.
Ciriacks also won the triple jump event at 9.43m.
Monica Bhagavan performed well in the 55 Meter Dash, earning a spot in the finals. She placed seventh with a time of 8.06s after an 8.04s time in the preliminary heat.
Effiong followed suit in the 200 Meter Dash, placing eighth with a time of 33.14s.
Up Next
The Scarlet Hawks will compete in the University of Chicago's Windy City Invite on Friday, February 3 at 11 a.m. and Saturday, February 4 at 8:30 a.m.