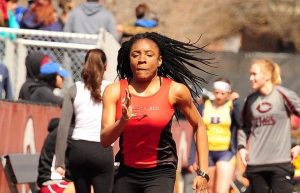 The Illinois Tech Women's Track and Field team competed in the Big Blue Alumni Invite at Millikin University on April 8. Illinois Tech placed seventh in the meet.
Meet Highlights
Mminika Effiong continued her strong season in the long jump, placing second at 4.83m. Emmalee Ciriacks placed seventh at 4.41m.
Ciriacks was also strong in the triple jump, placing second at 10.07m.
The Scarlet Hawks were strong in the 100m. Monica Bhagavan placed seventh at 13.06s. She was followed closely by Effiong (eighth place, 14.02s) and Ciriacks (11th place, 14.55s).
Bhagavan followed up her 100m run with a fifth-place finish in the 200m at 29.96s.
Up Next
The Scarlet Hawks will compete at the two-day Benedictine University Relays on Friday, April 14 and Saturday, April 15 in Lisle, Illinois.