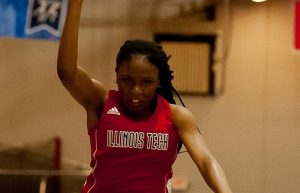 The Illinois Tech Women's Track and Field team competed at the Tom Bradley Invitational at the University of Chicago on February 17. The Scarlet Hawks placed seventh with a total of eight points.
Meet Highlights
In the 800 Meter Run, Zoey Krevitz placed 22nd with a time of 3:08.95.
Mminika Effiong had a 4.67m mark in the long jump, placing fourth.
Emma Farquharson competed in the shot put (16th, 7.95m) and weight throw (22nd, 6.82m).
Up Next
The Scarlet Hawks will be back in action on Friday, March 2 at the Gill Athletics Final Qualifier at Carthage College. The meet is set to begin at 3 p.m.