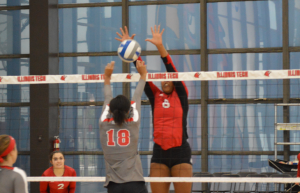 The Illinois Tech Women's Volleyball team hosted the first annual ACAA Championship on November 5, sponsored by the Association of Division III Independents. The Scarlet Hawks defeated two AD3I foes, downing Finlandia University in straight sets at before coming back after trailing 2-0 to Alfred State College. Illinois Tech is now 16-16 heading into next week's USCAA Championships.
Scores – Finlandia match
Set One: Illinois Tech 25, Lions 21
Set Two: Illinois Tech 25, Lions 13
Set Three: Illinois Tech 25, Lions 15
How it Happened – Finlandia match
The first set was back and forth in the early going until the Scarlet Hawks took the lead for good on an Alyssa Miner kill to go up 17-16. Illinois Tech iced the set on a kill from Taylor Burton.
Set two was all Illinois Tech, building an early 7-1 lead and never looking back. Burton once again scored the clincher on a kill.
In the third set, Finlanda started out on top. After the Lions led 5-1, the Scarlet Hawks went on runs of 9-1 and then 8-2 to propel the team to a 25-15 win.
Scarlet Hawk Standouts – Finlandia match
Stats to Know – Finlandia match
It was a block party for the Scarlet Hawks, as the team tallied four solo blocks and 16 assisted blocks. Illinois Tech had a stretch in the third set where four points on a 5-0 run were scored courtesy of the block.
The Scarlet Hawks out-assisted the Lions 37-18.
Digs were fairly tight, as Illinois Tech recorded 49 compared to Finlandia's 45.
Scores – Alfred State match
Set one: Alfred State 25, Illinois Tech 9
Set two: Alfred State 25, Illinois Tech 15
Set three: Illinois Tech 25, Alfred State 22
Set four: Illinois Tech 25, Alfred State 19
Set five: Illinois Tech 15, Alfred State 12
How it Happened – Alfred State match
The Pioneers dominated the first set, outhitting the Scarlet Hawks .500% to -.048% en route to a 25-9 win.
In the second set, AState built an early lead before the Scarlet Hawks tied the score at eight. That was as close as Illinois Tech would get, as the Pioneers controlled the rest of the set and closed it out on a 7-0 run.
The tide turned in the third set, as Illinois Tech took its first lead of the set at 6-5 and never relinquished it. The Scarlet Hawks would hold off a late Alfred State run to win 25-22.
Illinois Tech was even more impressive in set four, building an early 8-1 lead behind a dominant set from Grauzinis. The senior captain tallied eight kills in the set en route to Illinois Tech's 25-19 win.
Set five was tightly contested. Alfred State started out ahead 5-1 before the Scarlet Hawks capitalized on some key attack errors from the Pioneers to tie things up at six. The Scarlet Hawks were able to break through to take a 10-9 lead on another Alfred State attack error and used it to build momentum. With the score 14-12, Green ended the match on a service ace.
Scarlet Hawk Standouts – Alfred State match
After a slow start to the match, Grauzinis' late charge gave her 18 total kills, 18 digs, and two service aces.
Green was strong on the defensive end, tallying 15 digs and leading the Scarlet Hawks with four aces.
Burton continued her strong day with four more total blocks (three solo, one assisted), six kills, and a team-high .286 hitting percentage.
Darling added 30 assists.
Stats to Know – Alfred State match
Alfred State will be the third seed in next week's USCAA Championships and will face the Scarlet Hawks on Saturday, November 12. Illinois Tech handed the Pioneers its fifth loss of the season.
The victory is the second time this season the Scarlet Hawks won a match 3-2 after trailing 2-0. Illinois Tech also accomplished this on October 7 at St. Mary of the Woods.
Illinois Tech won the match despite being outhit .260% to .140% and trailing 62-39 in kills.
Up Next
Illinois Tech will play a minimum of four matches at the USCAA National Championships from Thursday, November 10 through November 12 in Virginia Beach, Va. A full schedule of Illinois Tech's matches for the weekend can be found here. Further information on the weekend will be posted on the Illinois Tech Athletics website early next week.