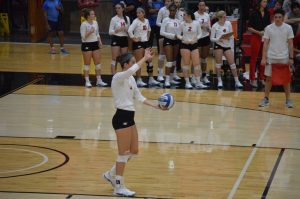 The Illinois Tech Scarlet Hawks defeated the visiting Alma Scots in a four-set match on October 7.
How It Happened
After a sloppy start, Illinois Tech managed to tie the first set at eight. The Scots capitalized on some mistakes and built a nine point lead, 21-12. However, the Scarlet Hawks rallied behind freshman Sara Hassell, who led a strong comeback with five kills and 12 straight serves en route to a 25-21 victory in the first set.
Illinois Tech used the momentum from the comeback in the initial set to build an early four point lead in the early stages of set two. The Scots fought back to tie the set at 13 and kept the Scarlet Hawks close until the end of the set. Alma's net presence of Kara Muxlow, Naomi Mason and Georgia Miller ultimately proved too much to handle for Illinois Tech as the Scots took the second set 25-23.
In the third set, Illinois Tech rebounded behind the efforts of Taylor Burton, Alyssa Miner, and Hassell. Despite five lead changes throughout, Illinois Tech used the combined 11 kills from Burton, Miner, and Hassell to build a big enough lead to outlast Alma 25-22 in another close set.
The Scarlet Hawks struggled initially in the early stages of the fourth set, committing some of the same mistakes that plagued them in the first two sets. Mason led Alma with four kills and Miller added two more as the momentum swayed between the two sides. But Illinois Tech's Courtney Curcio provided the defense (eight digs) and key serves to get the Scarlet Hawks the lead for good, as the home team took the set and the match 25-17.
Scarlet Hawk Standouts
Burton had 14 kills with a .310 hitting percentage and two block assists.
Hassell had 13 kills, four serve aces, 14 digs, and four block assists.
Miner contributed eight kills and eight block assists.
Curcio added 28 digs and Natalie Freund had 15.
Stats to Know
Illinois Tech led in blocks (11.5 to seven).
Illinois Tech held Alma to a 0.46 hit percentage.
The Scarlet Hawks led in kills 46-38.
Illinois Tech's record is now 9-13.
Up Next
The Scarlet Hawks will host Dominican on Tuesday, October 10 at 7 p.m. Live audio, video, and stats will be available. The live audio will be powered by Illinois Media School.