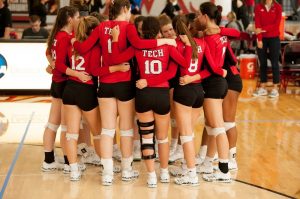 The Illinois Tech Women's Volleyball team dropped its final two matches at the Oregon Trail Classic hosted by George Fox University on September 1.
Scores

Linfield 3, Illinois Tech 1 (16-25, 25-21, 25-20, 25-21)
George Fox 3, Illinois Tech 0 (26-24, 25-12, 25-19)
How It Happened – Linfield Match
Illinois Tech won the first set 25-16 before Linfield won three straight sets to win the match.
Illinois Tech had an early 7-4 lead in the second set before Linfield scored 21 points to the Scarlet Hawks' 14.
Linfield rallied for seven out of the last nine points to take the third set.
The fourth set was back-and-forth before Linfield pulled away halfway through the set.
Scarlet Hawk Standouts – Linfield Match
Senior Alyssa Miner led the Scarlet Hawks with 11 kills.
Freshman Mia Phelps had nine kills including one that put Illinois Tech 14-11 in the first set forcing Linfield to call timeout.
Junior Taylor Burton and freshman Karen Marrufo-Zubaran each had six kills to round out the scoring for the Scarlet Hawks.
Marrufo-Zubaran recorded 19 digs.
How It Happened – George Fox Match
Illinois Tech nearly pulled off the first set after trailing 12-5 against the undefeated George Fox Bruins but dropped the game 26-24.
George Fox was all over Illinois Tech in the second set starting on a 10-3 run.
The Bruins and Scarlet Hawks were tied at 12 in the third set before George Fox rallied for seven straight points to put them ahead 19-12.
Scarlet Hawk Standouts – George Fox Match
Marrufo-Zubaran recorded 10 kills and had a .421 attack percentage to lead Illinois Tech in the setback.
Sophomore Sinjin Acuna led the Scarlet Hawks with seven digs.
Courtney Curcio helped Illinois Tech with six digs.
Up Next
Illinois Tech returns to action on Friday, September 7 at 7 p.m. against Anderson (Indiana) at the North Park Quad in the North Park Gymnasium.