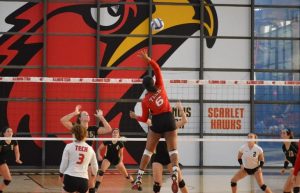 The Illinois Tech Women's Volleyball team made the short drive to River Forest on October 25 to oppose Concordia University Chicago. In a tight match, the Scarlet Hawks fell to the Cougars in five sets to move to 14-15 on the season.
Scores
Set one: Illinois Tech 25, CUC 20
Set two: CUC 25, Illinois Tech 23,
Set three: Illinois Tech 27, CUC 25
Set four: CUC 25, Illinois Tech 23
Set five: CUC 15, Illinois Tech 8
How it Happened
The Scarlet Hawks built a 6-2 lead in the first set before the Cougars went on a 7-1 run to take the lead. Illinois Tech retook the lead at 10-9 and never looked back, as a Taylor Burton kill clinched a 25-20 set one win.
Set two was tight, as no team led by more than three points (CUC at 5-2). The last lead the Hawks saw in the set was a 21-20 advantage, as CUC responded with a 3-0 run and held the advantage to win 25-23.
In set three, the Scarlet Hawks jumped out to a 13-6 lead after a 7-0 run. CUC would claw its way back to tie things at 21, but the Scarlet Hawks responded with three straight points. After a 3-0 run from the Cougars to tie it again, kills from Jelena Vujicic, Katherine McCutcheon, and Irena Grauzinis gave the Scarlet Hawks the set win.
Set four was controlled by the Cougars, building a five-point lead early. The Scarlet Hawks wouldn't lead until an attack error from CUC gave Illinois Tech a 21-20 advantage, but the Cougars closed the set on a 5-2 run for the win.
The fifth and final set saw the Scarlet Hawks start off with a 3-2 lead, but CUC would surge ahead with a  7-0 run. Illinois Tech would cut the lead to one before a 6-0 run iced the Cougar victory.
Scarlet Hawk Standouts
Burton tallied eight kills and seven blocks while hitting .250%.
Vujicic tallied 11 kills and also hit .250%.
Grauzinis led the team with 17 kills and also contributed two aces and 11 digs.
Courtney Darling added 42 assists, 10 digs, and three blocks.
Stats to Know
CUC outhit Illinois Tech .156% to .135%.
The Scarlet Hawks tallied 20 total blocks compared to just five for the Cougars.
CUC outdug Illinois Tech 82-76.
Up Next
Illinois Tech will play at Maranatha Baptist on Thursday, October 27 at 7:30 p.m.